Links & contacts:
Fanzines
Look at the Stars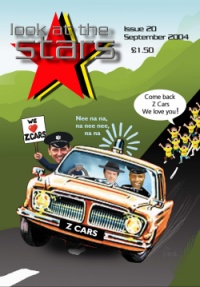 Another new fanzine? Well, no.
In fact, Look At The Stars is the result of a shotgun wedding between Clap Your Hands, Stamp Your Feet and The Yellow Experience, as well as casual shagging around with Blind, Stupid and Desperate and A Big Watford Love.
Although the four highly-regarded fanzines pretended that they didn't really like each other for a while, romance blossomed at the end of the 2000/01 season as they collaborated on the successful Graham Taylor tribute. The result is a fanzine featuring the best features from Clap and TYE, as well as regular columns from the writers involved in the finest Watford sites on the web.
About the current issue:
The time has come. Prompted by a bulging postbag from riled readers, Look at the Stars is going to fight the good fight. The new issue features a Z-Cars commemorative cover, as well as articles bemoaning the lack of the ever popular sea shanty from the WFC pre-match play-list. "Z-Cars rocks, get it back where it belongs pronto" said a Look at the Stars spokesperson, today.
The fanzine that's trying not to take itself so seriously also takes a look at the secret past of Terry Burton, the not-so secret past of Wilf Rostron, why Hediar Helguson and Brynjar Gunarrsson should be avoided on the football pitch, plus we ask the burning question... just what is the trouble with matchdays? All this and more from Watford's favourite (and only) fanzine. On sale from all the usual spots around Vicarage Road this Saturday from 12.30pm onwards.
---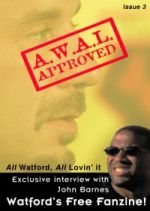 All Watford, All Lovin' It
Appearing halfway through the 2000/01 campaign, All Watford, All Lovin' It is continuing to improve with each issue.
Issue Three appeared for the Rotherham game on Saturday 18th August 2001, featuring an exclusive interview with John Barnes. And, in a novel approach to reaching the supporters, all four thousand copies were given away free.
For more information on AWAL, contact Ben and Dan Elman at wfcawal@hotmail.com.