Join Watford Museum and...
Follow the Yellow Brick Road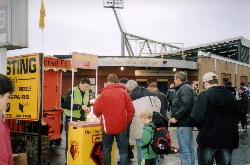 It's Saturday, and the Hornets are at home. You're on the way to the match with that familiar feeling of anticipation...and trepidation too sometimes! But first, a visit to your favourite pub, your habitual pre-match chippy, your friendly programme seller, or your regular newsagent....

What really sets matchday in motion for you? What are the sights, sounds and smells around Vicarage Road that always fire your footballing imagination? Watford Museum is celebrating your matchday experience with a new online exhibition, and they want your contributions!

The 'Follow the Yellow Brick Road' exhibition is part of the museum's massive new 'Goal-den Years' website, devoted to the history of Watford Football Club. As well as reading the thoughts of other supporters and viewing galleries of photos, you can add your own contributions to the exhibition from the comfort of your own keyboard!

The 'Goal-den Years' website is at www.goalden.org.uk. As well as 'Follow the Yellow Brick Road', you can visit another online exhibition about the dusty romance of the Main Stand at Vicarage Road, read about the museum's permanent collection of memorabilia, and look back at the original 'Goal-den Years' exhibitions about the two Graham Taylor eras. There'll be even more to come too, including a celebration of the club's cup exploits in the New Year.

For more information about Watford Museum, visit the sumptuous, recently-launched website at www.watfordmuseum.org.uk.