It's a long way to...
Wellington

Kia-ora
By Mark Millward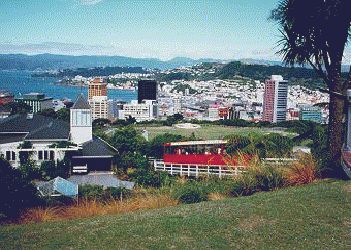 Kia-ora is a Maori word which translated means "May you be well".
This is a picture of central Wellington looking from the Botanical Gardens (with the Cable Car in the foreground). The camera is pointing south east. I work in the smaller green building underneath the tree in the right of the picture.
I have been a Watford supporter since I was about fourteen years old. My first memory of the Vic was going to a match against Huddersfield with four mates of mine. My mum was very protective of me and forbade me to go. I went anyway, telling her that I was round my mate's house playing cricket or something.
We went by bus from Hemel Hempstead to Watford and arrived at the ground about an hour before kick off. I remember the awe I felt looking at this soccer ground and seeing it start to fill. The realisation that I was going to watch a soccer match that would be reported on in the national papers and on TV wasn't lost on me either. As you can see I was a pretty impressionable child! Still I avidly read my program from cover to cover and eagerly awaited the arrival on the pitch of the two teams. "Z Cars" started and all of a sudden the crowd roared as these eleven yellow-shirted men came onto the pitch. I had no idea who they were individually, but I knew that they were the reason that I had lied to my mum!
The game started and it appeared that there was a bit of history between the two teams as after what seemed to be about twenty minutes Alan Mayes was sent from the field of play for violent conduct. The referee was immediately surrounded by Watford players, one of whom, Tony Geidmintis, must have said something rather rude because he was marched from the field in pretty short order. My first game and already things were really happening. There was no score at half time and I can remember the referee being booed and the police providing him with an escort off the pitch.
Well, the teams came out after the break and nine man Watford played like a team possessed. Keith Mercer scored twice and I was hooked. A 2-0 win in the greatest of adversity - how could I support any other team? I went to the following midweek game against Lincoln but, in between, the manager Mike Keen was sacked. I was dumbfounded! How could a manager who had steered his side skillfully through such a traumatic match as Huddersfield be given the chop?
My other "claim to fame" is that I nearly married the daughter of an ex-Watford player from the Fifties, Andy Porter. Andy was transferred down from Scotland and played regularly for the Horns in the late fifties until a serious knee injury cut his career short.
What are my other memories?
The Horns getting promoted from Division Four to Division One

Pat Rice scoring against Neville Southall from the half way line in our first Division One match against Everton. We won 2-0 and it was a scorcher of a day weather wise.

Following the club through Europe both home and away

Jan Lohman against Kaiserslautern

Playing in my school side against the full Watford side. Our team was one of four in Hertfordshire picked to play against the side. The players I remember that played included, Luther, Ross Jenkins, Andy Rankin, Wilf Rostron, Tony Geidmintis (one of my favourites) and Dennis Bond. We got stuffed 17-1 but we were the only one of the four sides to score (and it wasnít a soft goal either).
I did have a season ticket in the Vicarage Road end (before the seats) and latterly in the Upper Rous.
So why am I now in New Zealand, the furthest place away from the Vic? Well, I was offered a job with Telecom New Zealand in August 1995 and they basically made me an offer I couldnít refuse. I was unsure what the place was like but after a twenty five hour flight I wasnít disappointed. Wellington is a great place. You can dine in a restaurant or cafe for every day of the year and not visit the same place twice! The people here are very friendly as well and quickly helped me to settle here. When you have views such as those at the beginning of my piece as your everyday outlook on the world then you canít fail to love the place. The cost of living is much better than the UK as well. Itís not a Garden of Eden, "Godsown" as we locals call the place has itís fair share of criminals, but they are much less active than in the UK so I have to say that I feel much safer here.
This is a picture of the Civic Square in central Wellington (known as the CBD or Central Business District).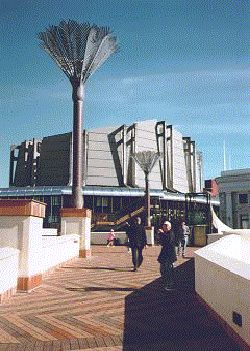 The tall structures symbolise one of the many indigenous trees that are found here. Its leaves are used as the national badge on all sporting jerseys, the Silver Fern. The large building at the rear of the picture is the Michael Fowler Centre. I suppose itís equivalent would be the Pavilion in Hemel Hempstead (for those that know it).
I couldnít resist one last picture.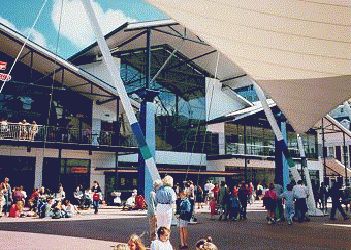 This is the Queens Wharf Event Centre which was opened a few weeks after I arrived here. It consists of an open square with the sea behind the camera, a convention/sports hall (pictured), and a small shopping centre to the right of shot. The piazza is covered by steel awnings that are meant to signify sails of the many sailing ships that came to Wellington in nineteenth century.
I plan to become a New Zealand Citizen next year on the third anniversary of my arrival here. This will mean I have dual nationality allowing me easier access to both the UK for holidays and New Zealand when I return home. A New Zealand passport also gives me easier access to Australia. For example, if I were to ever work over there I would not need a work permit if I had a New Zealand passport.
I hope that my missive gives you some idea on why I live where I do and also an insight into why I follow "The Golden Boys". I may not be there every week in the stands like I used to be, but I still feel the anticipation every Saturday of another Watford victory.
COME ON YOU HORNS!