Gone but not forgotten:
ig's green bag

Position: Over ig's right shoulder
From: Army surplus store - cheap - long, long ago
Record: Ever-present
To: The bin - free transfer - December 1999
It was: A constant in an ever-changing world

EXCLUSIVE: Fanzine editor's hooligan secret revealed!
By Harry Hack


Watford fanzine editor Ian Grant was today a discredited and shamed man after being exposed as one of the men behind an undercurrent of ugly violence at his club's matches.

The young thug was found with less than one hundred six-inch nails in his possession as he entered the Vicarage Road stadium last Saturday.

When police searched his Brighton home they found further weapons including hammers, chisels and knives. They also found a telephone which all hooligans use to arrange their bloodshed and sinister calling cards printed with the legend "Ian Grant, Software Engineer, Desktop Display Ltd".

We say LOCK UP THIS SCUM AND THROW AWAY THE KEY!
The contents of my green bag remain mysterious and ever-changing...and, unknown to me, have recently included a collection of six and twelve inch nails and screws from various unfinished DIY projects. As long as you've not got any cans of drink, it seems that you can take anything into a football ground these days....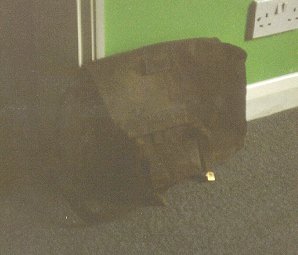 But the green bag's days are numbered. It is soon to go to The Great Army Surplus Store In The Sky, having been on the receiving end of one sarcastic comment too many from stewards ("Blimey, that looks like it's seen action in both wars!" and similar). A younger model, both more sensible and more stylish yet somehow not the same, is ready to take its place. A new bag for a new millennium, or something.
The end of an era. Sob.