Goal machines:
Peter Beadle
By Darren Rowe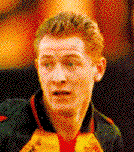 Young Peter Beadle started his league career at Glenn Roeder's old club, Gillingham. As a youngster he made quite an impression playing alongside another reject, Liburd Henry, knocking in a few (but certainly not many) goals, and, as a man of Kent myself, I caught up with this prodigious upstart on the odd occasion when I went to Priestfield stadium to watch my local side. As is the rule with Kent clubs, the Gills had been making a torrid time of it since their relegation from the old Third division a few years previously, but Peter was a light at the end of the tunnel as Gillingham made a concerted push up the table, from bottom spot to second from bottom. Alongside a team of former FA cup runners up (Neil Smillie), part time Ice Hockey players and free transfers from the now defunct Maidstone United, Peter seemed to be a jewel uncovered. He shone so brightly in fact, that with only a few dozen first team appearances under his ample belt, Gillingham sold him to the great Tottenham Hotspur for a substantial sum - certainly in the vicinity of £200,000.

At Spurs, however, Peter's fortunes nosedived, as injuries hit, and then two years in the reserves followed, before Glenn Roeder picked him up for £10,000, and took him to Vicarage Road in the early part of the 1994-5 season. Having seen this 6'2" striker in action before, I felt confident that the Big Guy could prove to be a valuable addition to the squad. This opinion was in no part aided by the opinion of a bus driver I once had the fortune to meet, who knew Peter's parents and said they were very proud of what he had achieved. I even stuck by him when he made moves into first team contention after the Welshman (Nogood, or whatever his name was) left.

Alas, injury hit again in the winter of 1995, and he was laid off for quite some time. In that time Glenn Roeder brought in some loan signings, the final of which was the fat Mick Quinn. Replacing Quinn weekly was good news for Peter, he only had to play thirty-five minutes of each game, got paid appearance bonuses, and quite frankly, compared to the fatman, looked actually quite good. It was not until Quinn was sent packing, and Beadle started to play full games that the stark reality started to dawn. Peter was a big guy, all right, but unfortunately his heading ability was frightful. Not only that, but because he was a big guy, his speed off the ball was seriously pedestrian, and he had a woeful first touch. He seemed to be quite happy playing alongside the equally pedestrian Craig Ramage, and, it must be said, this did provide little Kevin Phillips with a few goals. However, as time wore on, he looked less and less happy in front of goal. He was desperately needing to score to take some of the weight of expectation off those broad shoulders, and when it finally did come, it felt to me like the cork had come off a champagne bottle.

However, this patently did not help the situation much, although he did, I hear, turn out some useful performances in the pre-season friendlies. It was during those games that Peter received the sending off that would curtail his short Watford career, for three matches after the season began, Peter had to serve a suspension, and then got injured again. In his programme notes on the match of Peter's suspension, Glenn Roeder said how a suspension could damage a player's career. How prodigal his words were. Jamie Moralee's form kept Peter out of the first team, and when Glenn signed Gary Penrice from QPR Peter took the hint and left while he was still worth some money. He was sold to Bristol Rovers for £30,000, after only a handful of first team appearances and one first team goal.

Maybe he will find his level in the depths of Division Two. Other players have left us as flops and gone to Division Two as heroes - Steve Butler, Ken Charlery, Liburd Henry. One thing is for certain now - next time I walk through Gillingham town centre on a matchday morning, wearing my Watford shirt, I won't be mistaken for the Big Man himself.