The Gaffer:
Steve Harrison
January 1988 - March 1990
By Tim Lattimer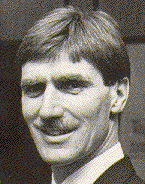 "Buy 'em, drop 'em, sell 'em" was the catchphrase of the Harrison era. Quite why he felt he had to get through so many players proved a bit of a mystery, although the allegations that bungs are commonplace in English football did make me wonder (Allegedly - Ed). Nevertheless it has to be said that Harrison is the only manager of the post-Taylor era who can claim some success (i.e. the play-offs), and he was the only one who I was genuinely sorry to see go.

Anyway Harrison's arrival failed to turn the 87/88 season, although we did have a good cup run (Wimbledon in the 1/4 finals), during which even Senior scored. Blissett was top scorer with 4 league goals, which says it all really. We finally got rid of Senior but Iwan Roberts wasn't really doing much better. We finished 2nd bottom and were relegated with Oxford, Portsmouth and Chelsea. No-one really blamed Harrison, rightly I feel, as he'd inherited a club that had relegation written all over it. Still hopes were high for the 88/89 season, I'm sure I wasn't alone in feeling we could bounce back as I still thought of us as a First Division team.

The season started well, at one stage we were 5 points clear at the top. Still the team was never settled, and never really looked like first division material, and eventually, after a dire February, Chelsea and Man City pulled away. We had a brief revival around Easter and made the play-offs, going out to Blackburn on away goals, but overall it was a bit disappointing. More transfers ensued, including the departure of Holden, but the following season turned out to be a grave disappointment.

We had a great run in the late autumn, when Penrice arrived, which almost got us in the play-off frame, and won Harrison his second 'manager of the month' award. This was probably the best we played under Harrison, but it was another false dawn as things fizzled out in the new year. By March we were well below mid-table and the board, thinking we should be in the promotion race, got rid of him. Looking back it was that season that changed us from one of the division's front runners to also-rans.

Although Harrison made some great buys, it's probably for the players he sold that he'll be remembered for. I don't blame him for letting go of Tim Sherwood, who I never rated myself (whoops!), but Rick Holden was as good as anyone in the play-off season. I suppose his transfer can be explained by the fact that Hodges and Rod Thomas were looking quite good on the wings, but he should never have gone, especially not for that price. And surely instead of buying Bamber, Thompson, Liburd Henry, Rimmer, etc he could have given Dean Holdsworth a try, instead of offloading him to Brentford. And buying Martin Kuhl only to sell him almost immediately was just bizarre. I also thought he should have picked Luther more.

Of course you could argue that he was the real villain, that Bassett would have kept us up, and that it was Harrison who caused the decline from Division One to lower Division Two. But I prefer to go the other way, if he'd succeeded Taylor I think we might have stayed on course, and if he'd kept the job a little longer, I think we might not have had to wait so long to become a half-decent side. It might also be worth mentioning that the season we made the play-offs the division was a bit tougher than usual as a result of the league's brief experiment with a 20 team Division One.

Best buys: Rick Holden, Paul Wilkinson, Gary Penrice, Glenn Roeder (would he be our manager if he hadn't played for us?)
Worst buys: Steve's currently on the dole, so we're being nice to him...
Best moments: Getting in the play-offs (89), another win over Arsenal at Highbury (88), the Penrice inspired run of late 1989 (Oldham 3-0, Bradford 7-2) going 2-0 up at Stamford Bridge (1989), beating Newcastle and Derby in the 89 cup run.
Worst moments: Those tortuous last months in Division One, getting knocked out of the League Cup by Bolton (a bit embarrasing in those days), losing to a ten man Wimbledon after being 1-0 up at half-time and missing out on an easy semi-final against Luton.