05/06:
Reports:
Football League Division Two, 30/04/06, 1.30pm
Watford
versus
Hull City

Coming home
By Ian Grant
Every now and again, you have to think about moving to somewhere else. It's inevitable, after a while. The reasons can be numerous: work, relationships, the yappy dog and the baby that live upstairs (to pick an entirely random example), whatever. If you live in Brighton, property prices generally have something to do with it; barring gargantuan pay rises and lottery wins, everyone's stuck on their rung of the property ladder for all eternity, paying the same for a small cupboard as they would for half of Burnley. If they wanted half of Burnley.
Which is the point. For the countlessnth time, I have recently contemplated the fact that I could sell my flat, escape the yappy dog and the baby, and live in greater space, comfort and theoretical happiness away from Brighton. And then, for the countlessnth time, Brighton has helpfully reminded me that I'd be bloody miserable. I love Brighton. I'd be back, tail between legs, within weeks of leaving.
Wandering around, it has this lovely habit of nudging you out of whatever routine you've fallen into, a gentle tickle to wake you from your daydreams. There are far too many strange people in Brighton for the streets to be entirely normal, and the whole place is full of weird little distractions, coincidences, after-thoughts. Shops that appear to sell nothing except inflatable monkeys, stencilled statements on walls that momentarily catch your eye and demand some kind of response, people dressed as Queen Victoria, that kind of thing. It's called "character" by estate agents, I suppose, and conventional wisdom insists that pristine cleanliness and orderly logic are generally preferable. Not for me, ta.
During the week, I walked up the hill, under the railway line, to check a friend's post while they were away. It's not an especially scenic part of the town, unless your idea of fun is dodging pigeon excrement and random rusty drips in gloomy half-light. Marching up the hill, I notice a small cardboard box perched rather deliberately upon one of the pillar supports; I have no time to inspect it, but I make a point of a detour on the way home.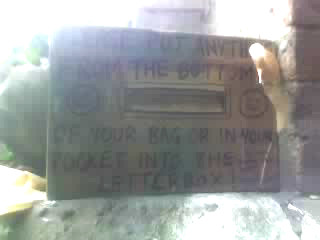 True enough, it's there for a reason. A curious reason, certainly, but there's nothing in the rules to say that reasons can't be curious. Written on the box in marker pen, with accompanying smiley face: "PLEASE PUT ANYTHING FROM THE BOTTOM OF YOUR BAG OR IN YOUR POCKET INTO THE LETTERBOX". And sure enough, a convenient letterbox has been cut into the front for the purpose described. Unable to offer the box anything except money and my house keys, I resolve to return later with something in the spirit of the experiment. I never get around to doing so, of course; normal service takes over and there's too much to do. But my spirits are lifted, in a small but nonetheless significant way, by an encounter with such nonsense. Life is better for such things.
Thinking of Watford, I wonder whether we've yet come to know these players as we have others in the past. Of course, we've seen much of their ability, both as individuals and as a team, and we've rightly praised it...but they've still to define themselves as characters rather than just as players, and will surely do so over the next ten days. Why do I love my home town? Not because my flat is worth more than it was five years ago. Because of the bits - whatever they might be - that make it unique and special, and personal to me. The bits that hold memories, good and bad. The bits that I still don't know about. Why does anyone love a football team?
We're already seeing some of that: Malky Mackay's new chant (he's having a pint and he's eating a pie, apparently) drifts charmingly away from the usual rubbish, towards Steve Palmer and Ronny Rosenthal and Ben Iroha and all that stuff. Towards something that you can love just for itself...and then love for its achievements. And elsewhere: if Adrian Mariappa ever does score a goal, there's going to be absolute mayhem. As we found out at St Andrews in '99, there's only so far that ability will take you; there's a point at which just being able to kick a ball isn't enough any more.
So, bring it on. Let's find out who these people are.
In the meantime, let's get this thing out of the way. The first goalless draw at Vicarage Road since the start of October...and not an entirely unpredictable one, in hindsight. Since Sheffield United stumbled over the finishing line, we've covered up the meaningless nature of the fixtures rather well, with some help from our opponents: Ipswich were kind enough to take part in an entertainingly shambolic end-to-end friendly, while Queens Park Rangers' general ill-temper spiced up what might've been thoroughly bland. Hull, on the other hand, weren't nearly so obliging.
It's easy to draw conclusions, or try to. Shall we not, though? There's too much that'll change between here and Selhurst: for all that we whinge at them for it sometimes, we'd be rather stuck if players didn't raise themselves massively for the most important games. In truth, this mattered more to Hull than it did to us, simply because there is no next week for them. They weren't all that good, but they were plenty good enough to stop us from enjoying a gentle amble in the sunshine, and might well have won with better finishing. That would've dampened our enthusiasm, momentarily. Nothing more, though.
So, it didn't matter. Elton turned up, and everyone waved at him. Adrian Mariappa started while Malky had a pint and a pie, which gave everyone something to sing about until, as usual, it all went quiet. He didn't score. Nobody scored. The lap of honour was rather overshadowed by the awareness that there'll be another one before too long, when we know how the season has ended. It was that sort of afternoon, just a date in the diary that we couldn't cancel.
The football match wasn't that bad. It just needed to be much more than not-that-bad to hold the attention in the circumstances, and there were too many periods when you kept drifting away from the low-level, fidgety activity on the pitch. Two minutes, and Adrian Mariappa shows considerable confidence in dropping a cross-field pass onto Ashley Young's toe, only for that toe to carelessly send it skidding through to Myhill. Twelve minutes in, and Ben Foster catches a looping header from Andrews. Further goal attempts follow, including a series of long-rangers from Hull that threaten to clear the Rookery, and the only hope of anyone scoring comes when Myhill drops Jordan Stewart's free kick under challenge and Young's follow-up is blocked by a defender. Stuff is happening, sure. But it's happening with such a complete absence of urgency that it's hard to be bothered.
Very occasionally, we extract the ball from the midfield scuffling and play some proper football. It doesn't happen often, and you have to worry just a little over how a side with so much apparent creativity can sometimes seem so sterile, but it does happen sometimes...and it nearly always involves Marlon King, unsurprisingly. Thus, it's his pass, preceded by one of those implausible turns, that finds Chris Eagles on the right of the area after twenty-ish minutes; he cuts inside past defenders but onto his left foot, and the low finish is straight at Myhill, who nevertheless does well to block with his feet. In the aftermath, Al Bangura chips in a cross that Ashley Young heads goalwards, the angle making the save easy for the keeper. Some signs of life.
We continue to splutter, while Hull dominate passages without looking overly threatening when approaching our penalty area. In the mountainous Jon Parkin, they have a player who offers nothing - no touch, no speed, no ability in the air - but the very essence of presence. That is, simple physics dictates that his vast presence in an area of the pitch displaces pretty much everything else - opponents, colleagues, officials and, usually, the ball - in much the same way as a hippo diving into a garden pond. At one point in the second half, his attempts to keep a through-ball in play result in a hefty boot in one of our substitute's more tender areas, a flying advertising hoarding and, very nearly, an unscheduled start to the demolition of the East Stand. Tremendous fun on an afternoon such as this...although the entertainment did lack a certain Scottish "je ne sais ye'what pal?"
Back on the pitch, half-time approached. It was all very pleasant. Darius Henderson came closest yet, nodding down firmly from an epic Mariappa throw, only to be denied by a fine, low stop from Myhill. Then, late on, Hull managed to move some of their better football another thirty yards up the pitch, and Ellison's touch back to Green produced their first meaningful shot, Ben Foster pulling off a decent two-handed save before grabbing the loose ball. We've seen much worse than this, games where the possibility of goals has been far more remote...but those games have mattered more, that's the thing. And the next ones will matter most of all.
Another forty-five minutes, and much of the same. Not bad, no. Perfectly agreeable, all in all. But if football were like this all of the time, I'd just sit in my garden and read a book. Fortunately, it's not...and so you could take the opportunity to cast a leisurely eye over our new defensive pairing, no need to follow the action too closely. In truth, they both had very good games...but they both had very good games in isolation rather than in concert, and there's plenty of work to be done before a proper understanding and, therefore, a viable partnership develops. Still, Adrian Mariappa showed considerable promise: a stylish, quick-witted defender with more than enough pure talent to suggest potential versatility. Jay Demerit stomped loudly around him, bull elephant protecting youngster. Hull should've had a couple, mind.
They might've had the first almost immediately after the restart, as endless hoofing back and forth finally resolved itself with Duffy inside the area, defenders all wrong side. Pretty much his first touch after coming on as a substitute; he drilled it across goal and five yards wide of the bottom corner. We must tighten up defensively, you suspect. Then again, I've said that for most of the season....
We continue to get away with it, mostly. Or, as when Adrian Mariappa was caught napping by Myhill's quick clearance and Duffy sped away from him, we continue to recover situations somehow or other. Here, the defender did brilliantly to make amends for his error, chasing back and producing a perfectly-timed tackle to prevent the forward from making further progress; to an ovation from the stands, he then stuck a toe in to poke the ball clear as Duffy tried to threaten the goal once more. Prevention is better than cure, agreed...but cure is still much better than nowt. He'll learn the rest, hopefully.
In the meantime, we must tighten up. Because Hull created the chances to win this much too easily...and we'll be facing much more clinical strikers next week. Again, the mind drifts away from this and onto more important business. Here, though, we caused our own problems - Gavin Mahon's hesitation in midfield allowing the visitors to release Duffy behind our offside trap once more, and it was only Ben Foster's sprawling save that rescued us on this occasion. Two minutes later, Cort powered a free header wide from a corner, and we were starting to look rather sloppy.
Fortunately, it didn't end like that. While the final half hour was hardly rousing, it offered much more in the way of attacking football than we'd enjoyed thus far; the midfielders managed to find a firmer foothold and possession in the final third became a little more composed as a consequence. We've finished third for a reason, after all. Well, lots of reasons. You could argue that we haven't finished second for a few reasons too, I suppose. Whatever, we're better than much of what I've described...and Marlon King is much better than all of this, frankly. To prove the point, he stretched his legs on the right wing, turning to whistle a tremendous cross through the danger area and just beyond Darius Henderson's stretching forehead. Marlon says...why the sodding hell can't our wingers do that once in a while?
As if eager to prove that we're more than one sensational striker plus hangers-on, Al Bangura nearly won it for us with a spectacularly eager burst into the box on seventy-five minutes, hand in air like swotty schoolkid trying to attract teacher's attention. Marlon King played him in, but he just couldn't find a sufficiently composed finish from six yards, and Myhill smothered the ball before it could escape him. And then, the one moment that's truly worth remembering, from that sensational striker: Bangura thumping a rather lively pass into King on the edge of the area, then the way that he used the pace of the ball to flick it up and behind his markers, the way that he turned past the obstructive bodies with single-minded elegance, the way that he smacked in the angled volley with such ferocity. Magnificent. The keeper saved superbly, instinctively getting something in the way. A goal that deserved a better, more important game than this one, perhaps; Marlon's ability to produce these moments again and again suggests that we haven't seen the last of it.
The game drifted from there, the last few moments of the normal season. The last few moments when the game can drift. None of that at Selhurst on Saturday. No opportunities to hide, to wander, to lose your focus. It's different from last time, inevitably. But the opportunity is the same: it's the opportunity for promotion, sure. For some extra millions in the kitty. For prestige and achievement and medals and stuff. Bollocks to all of that, frankly.
This team has done tremendously to make it this far. Now, where are its heroes?