Famous victories:
Division 1 Playoff Final, 31/5/99
Watford 2(1)
Team: Chamberlain, Bazeley, Kennedy, Page, Palmer, Robinson, Ngonge, Hyde, Mooney, Johnson, Wright
Subs: Hazan (for Wright), Day, Smart (for Ngonge)
Scorers: Wright (38), Smart (89)
Bolton Wanderers 0(0)

Something else
Report by Matt Rowson
Whether or not you were at Wembley on Monday 31st May 1999, the chances are that if you're reading this you've watched a few games of football. Enough to be familiar with the irrational extremes to which a game of football can carry your emotions.
Take Birmingham City for example, in the Play-off Semi-Final second leg at St. Andrews. Most of us went through the mill that night... from intimidation, through fear, despair, unbearable tension, to a desperately grateful elation as the crucial penalty was saved. A great night, a special night, a night to remember. But if I'm honest, not unique. I've been through those things before, albeit not as dramatically terribly often. Fulham, last May, for example. Winning 4-0 at Kenilworth Road. Beating Arsenal in the Cup in 1987. Knocking Leeds out of the League Cup.
In fact, most supporters of most clubs will have experienced something similar at some point... even the insipid, soulless Cockney Reds (although in their case this will be the equivalent of spending a night on the piss in Glasgow and thinking they've seen Scotland). This is the currency of supporting a football team.
But not Monday. Monday was something else altogether.
I don't know what I expected to happen. I think that, out of cowardice as much as anything, I hadn't allowed myself to think about the outcome much at all, being unable to comprehend either the crushing, guilt-ridden disappointment that would greet defeat or...
I almost lost it when Allan Smart's goal went in. I don't just mean that we celebrated in wild abandon... that's nothing unusual for most of us this season in any case. I mean I almost let go completely. The noise was deafening. Unbounded, screaming joy exploded around us. Nothing, obviously, ever takes place outside of the football stadium you are in during a game... for a few seconds I almost forgot that the rest of the world even existed.
Almost.... not quite. Something held me back. Maybe it was the memory of Manchester City and Gillingham twenty-four hours earlier. Maybe it was the same excess of caution that forbade me from even contemplating the outcome before the game. But I wasn't ready to take anything for granted. It couldn't be true... someone would snatch it away from us.
Except now Terry Heilbron has the whistle in his mouth and it is all over and OH BLOODY HELL.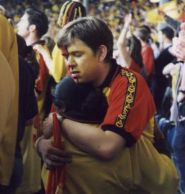 How do you do something like that justice ? Strangely, almost tragically, after an initial bellow of joy, and embraces with those around me I collapsed into a sort of trance. Gasping for air, gaping stupidly in disbelief, I watched the pandemonium erupting. People were smiling, cheering, laughing. I could do none of those things. I just stared in disbelief, clutching my girlfriend who has never more literally been a pillar of strength than she was for those five minutes.
On the pitch, I could see Allan Smart crying and for the first time in my life my eyes welled up with joy. I wasn't the only one. But perhaps the reaction which most closely mirrored my own feelings was that of Tommy Mooney, who stood facing us, hands on head, completely unable to take it all in.
I recovered after some minutes, almost like awakening from sleep. More celebration, more happy faces outside the ground. Back to Watford, drinking, celebrating. No dejection, nobody having an off-day, everyone smiling. Match of the Day, Football Stickers, Fantasy League and bloody Squad Numbers.
What happens next ? Well, three days on and the messages of solidarity have been flooding to the Watford Mailing List and elsewhere, with the Nationwide League noticeably better represented than the Premiership. It appears to be our turn to carry the flag for the small club in the top flight, although we may have something of an accomplice in Bradford City, whose fans have been particularly generous in their congratulation.
As for the knockers... to hell with them. Even if their snidest prophecies come true, and we're sunk without trace next season - which I don't believe for a moment will be allowed to happen - nothing will have changed. They'll still be wrong.
And they can't take Monday away from us.